Process and Automation Control Instruments are used for switching and controlling various automatic processes thus, remain in huge demands in the marketplace. Other applications where these instruments are being used include non-contact sensing, safety & security applications and for improving the product quality & production rate. After understanding the multiple usage and growing demand of Process and Automation Control Instruments in different segments, our mentor, Mr. Nishant Koli decided to enter into this domain. He started the company, Redinfra Systems Private Limited in the recent years, 2021. By serving as a manufacturer, we are bringing the latest industrial standards and newest technology of products including Robotic Safety Light Curtain, Fork Slot Sensor, Light Curtain Controller, Collision Switch, etc. in the markets of India.
As the clients are spending their valuable money in buying our Process and Automation Control Instruments, we make sure that their requirements are fulfilled by us in an efficient & satisfactory manner. Our company fulfills all kinds of bulk, urgent or special requirements of our customers as per the detailed specifications provided by them. It is the continuous endeavor of our R&D experts, to come up with better and more effective production methods so that the products are made available at reasonable prices.
Our Infrastructure
For the smooth and hassle free functioning of the business, we have set-up our company in an ancient holy city of Maharashtra, Nashik. The complete infrastructure is built over 700 sq. ft. land area which encompasses all the modern machinery & equipment required for the daily operations of the company. Further, our infrastructure incorporates following sub-divisions:
Procurement unit
Production department
Quality testing laboratory
Engineering & technical department
Warehouse & packaging unit, etc.
Quality Assurance
We always seek for standing high amongst our competitors and attaining a distinguished position in the marketplace. The rising demands of our products is evidence which proves that highest quality standards are maintained by us. Total quality management is followed in our organization where quality policies are prepared in accordance to industry set standards and market developments. We have set-up a quality testing unit wherein several examinations are performed in the final products like Fork Slot Sensor, Robotic Safety Light Curtain, Light Curtain Controller, Collision Switch, etc., on the grounds of several parameters. Every single product is passed through rigid inspection procedures and only after that it is offered in the market.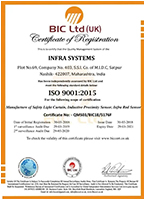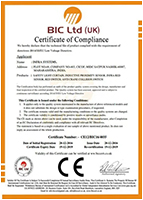 Read More